The wonderful world ofMontessori rainbow offers an infinite number of adventures and learning opportunities for children. Thanks to a recognized pedagogy, varied activities and specific wooden toys, this educational method helps develop creativity, autonomy and concentration in the youngest children. In this article, we reveal all the secrets of the Montessori Rainbow.
The founding principles of Montessori pedagogy
Created over a century ago by Maria MontessoriThe method that bears its name is based on several key principles:
careful observation of the child to adapt the environment and activities to his/her individual needs,
respect for each child's rhythm and personality,
encouraging autonomy and personal initiative,
the use of concrete, aesthetic materials to encourage sensory learning.
Through these values, theMontessori rainbow provides a caring and stimulating environment for the overall development and autonomy of the child.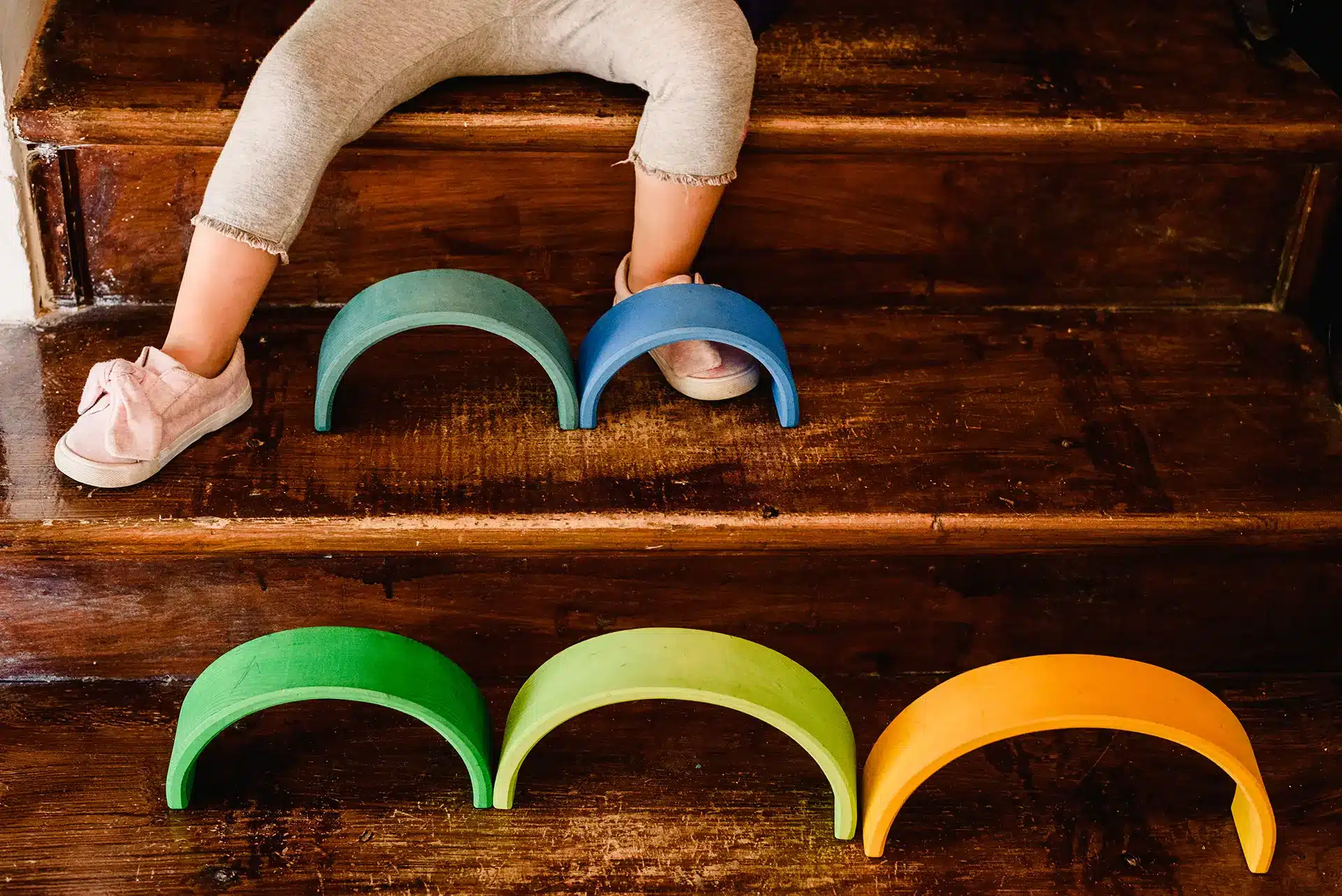 The central role of wooden toys in the Montessori Rainbow
The choice of materials is essential in Montessori pedagogy. Wooden toys (The ultimate guide to wooden toys for one-year-olds) are favored for their quality, durability and eco-friendliness. They also offer a rich and varied sensory experience, thanks to their natural textures, shapes and colors.
Rainbow puzzles: a timeless classic
Visit Montessori rainbow puzzle is an essential part of this educational method. Made up of pieces of different sizes and colors, it allows children to develop their fine motor skills and problem-solving abilities while having fun. By manipulating these colorful elements, they also learn about size, proportion and color.
Nesting towers: a versatile game
Nesting towers are made up of a number of interlocking and stackable wooden elements, offering a wealth of construction and manipulation possibilities. They encourage the development of hand-eye coordination, spatial logic and imagination. Children can create original structures, landscapes and characters with this evolving and creative game.
Varied activities to stimulate all the senses
L'Montessori rainbow offers a host of activities designed to awaken children's senses and skills:
the music Instruments suitable for small hands, such as maracas, tambourines and xylophones, stimulate hearing and rhythm,
the plastic arts Drawing, painting and modeling develop creativity, dexterity and fine motor coordination,
the kitchen Preparing simple, healthy recipes enhances the sense of taste, smell and balance,
gardening Taking care of plants encourages responsibility, patience and discovery of the natural world.
An environment designed for children's well-being and autonomy
In a Montessori Rainbow Space, everything is designed to encourage freedom of movement and independent learning:
furniture to fit children, so they can easily access objects and sit comfortably to play or work,
a clear, airy layout that respects their need for concentration and exploration,
a warm, reassuring atmosphere, with natural materials and soft colors,
accessible shelves to encourage curiosity and personal initiative.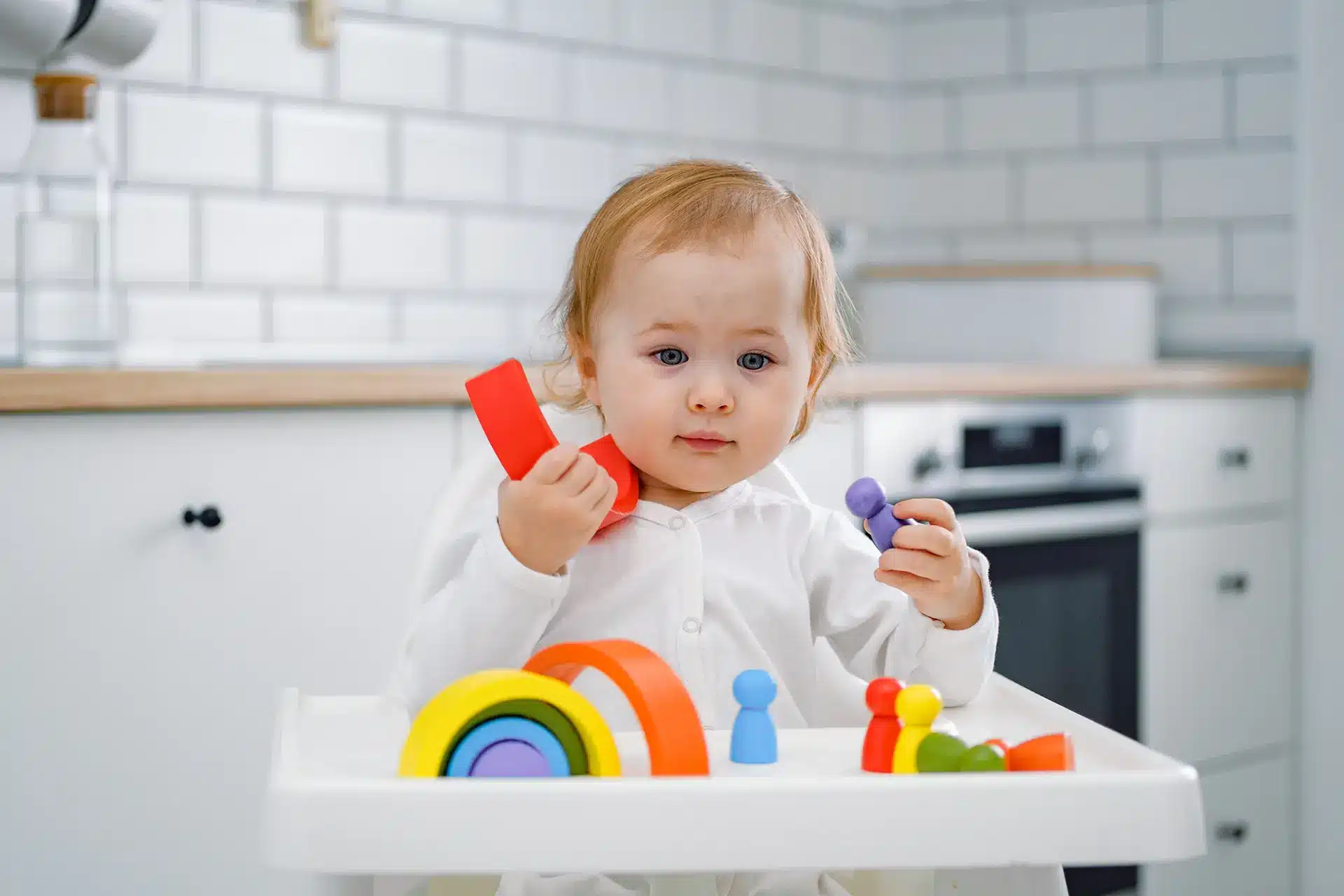 The importance of caring adult support
Adults play a crucial role in implementing theMontessori rainbow. His attitude must be one of respect, listening and patience, to create a relationship of trust with the child. They are there to guide, observe and support learning, without imposing or judging. In this way, they play an active role in the development and harmonious construction of the child's personality.
In short, l'Arc-en-ciel Montessori offers a holistic educational approach that respects each child's rhythm and needs. Thanks to an adapted environment, stimulating wooden toys and multiple activities, children develop their skills and creativity to the full.