In the world of education and pedagogy, the contributions of Maria Montessori cannot be ignored. This Italian scientist developed a learning method based on autonomy, respect for the child's rhythm and sensory stimulation.
These principles are particularly evident in the Montessori educational games wooden toys that can be adapted to children's ages and needs. In this article, we'll look at how these toys take into account children's developmental stages and help them to blossom.
Montessori wooden toys for under-3s
For toddlers, Montessori wooden educational games focus above all on sensory stimulation and fine motor skills. Here are just a few examples:
Wooden puzzles Suitable from the age of one, they help children recognize shapes and practise their prehension.
Shape boxes At around 18 months, children learn to assemble different wooden parts to create a three-dimensional object.
Interlocking cylinders Ideal for fine motor skills, this game invites children to stack cylindrical objects of various sizes and colors.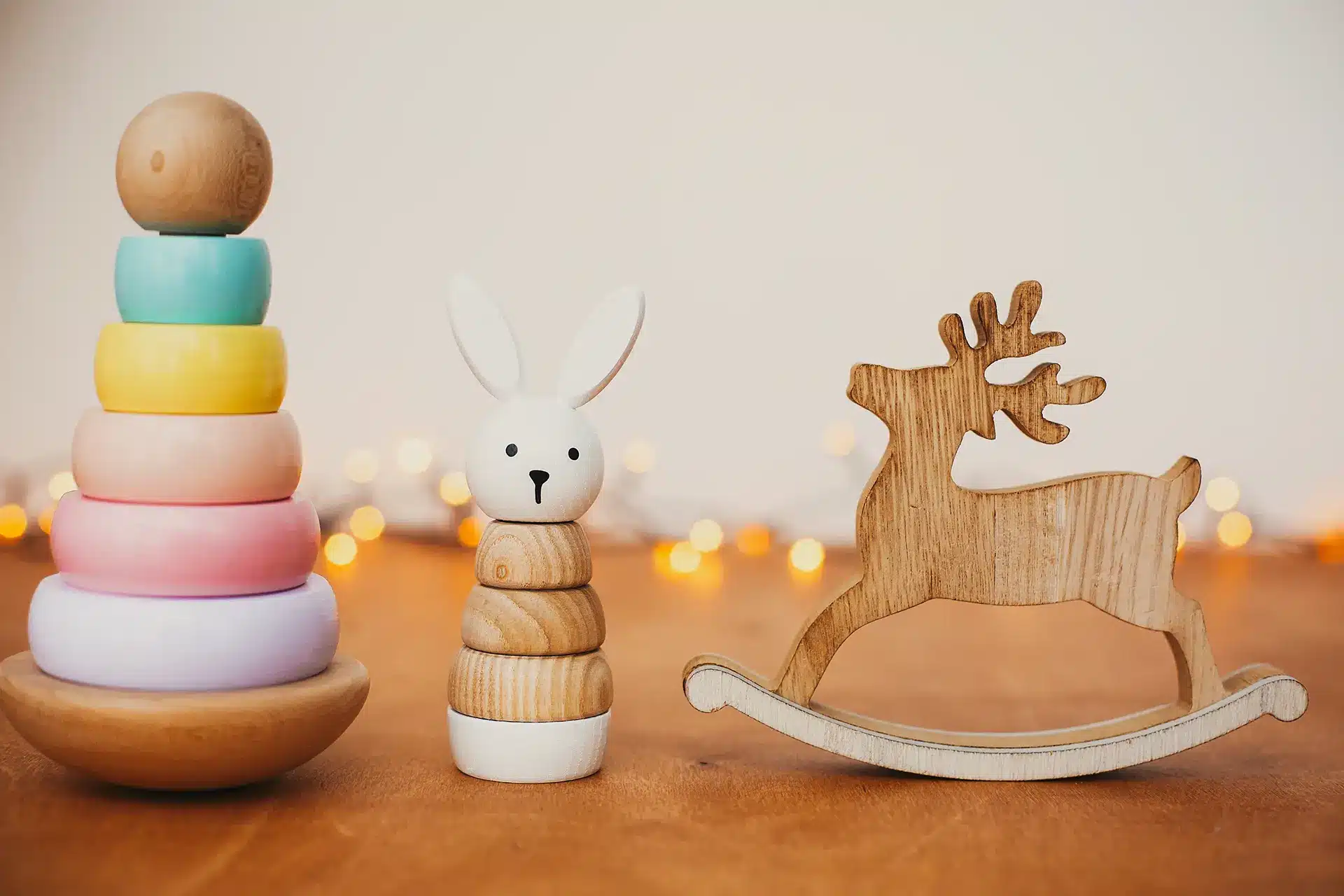 Montessori educational wooden games for 3-6 year olds
As they grow, children develop new skills. Montessori wooden toys enable them to explore more complex areas:
Red bars and number bars These games help children learn the basics of mathematics and mental arithmetic, while developing their powers of concentration.
Rough letters By following the texture of these letters with their fingers, children gradually learn to read and write.
Geographical puzzles A fun way to introduce the notion of space and discover continents, countries, regions...
Montessori principles and sensory materials
A key element of the Montessori method is sensory material, which aims to develop the child's senses. Among the main educational wooden games you can offer your child are :
The sound cabinet With its cylinders filled with different materials, this game encourages children to develop their auditory discrimination and sense of rhythm.
The touch panel With different surfaces (rough, smooth, soft...), children are encouraged to refine their sense of touch and become more aware of their bodies.
Geometric embedding By manipulating different shapes, children discover geometry in a sensory way. What's more, the weight of the pieces helps them improve their motor coordination.
Montessori wooden toys for 6-12 year olds
At this age, children are developing their social skills and asking lots of questions about the world around them. Montessori's educational wooden games help them find answers and build relationships:
Arithmetic cubes For a better understanding of mathematics, this game invites children to solve operations using colorful wooden blocks.
Hanoi Tower Ideal for stimulating concentration and logical reasoning, this game involves moving rings of different sizes between three rods while respecting certain rules.
The fraction plateau A fun way to understand fractions and their visual representation using circles cut into equal parts.
Adapting the choice of Montessori toys to the child's rhythm and needs
When choosing wooden Montessori toys and games for your child, it's essential to take into account his or her specific needs and rate of development. It can be helpful to carefully observe your child's interests, skills and difficulties before choosing the material that will best suit him/her.
Don't hesitate to vary the Montessori wooden educational games they have access to so that they can progress in different areas: sensory, language, logic...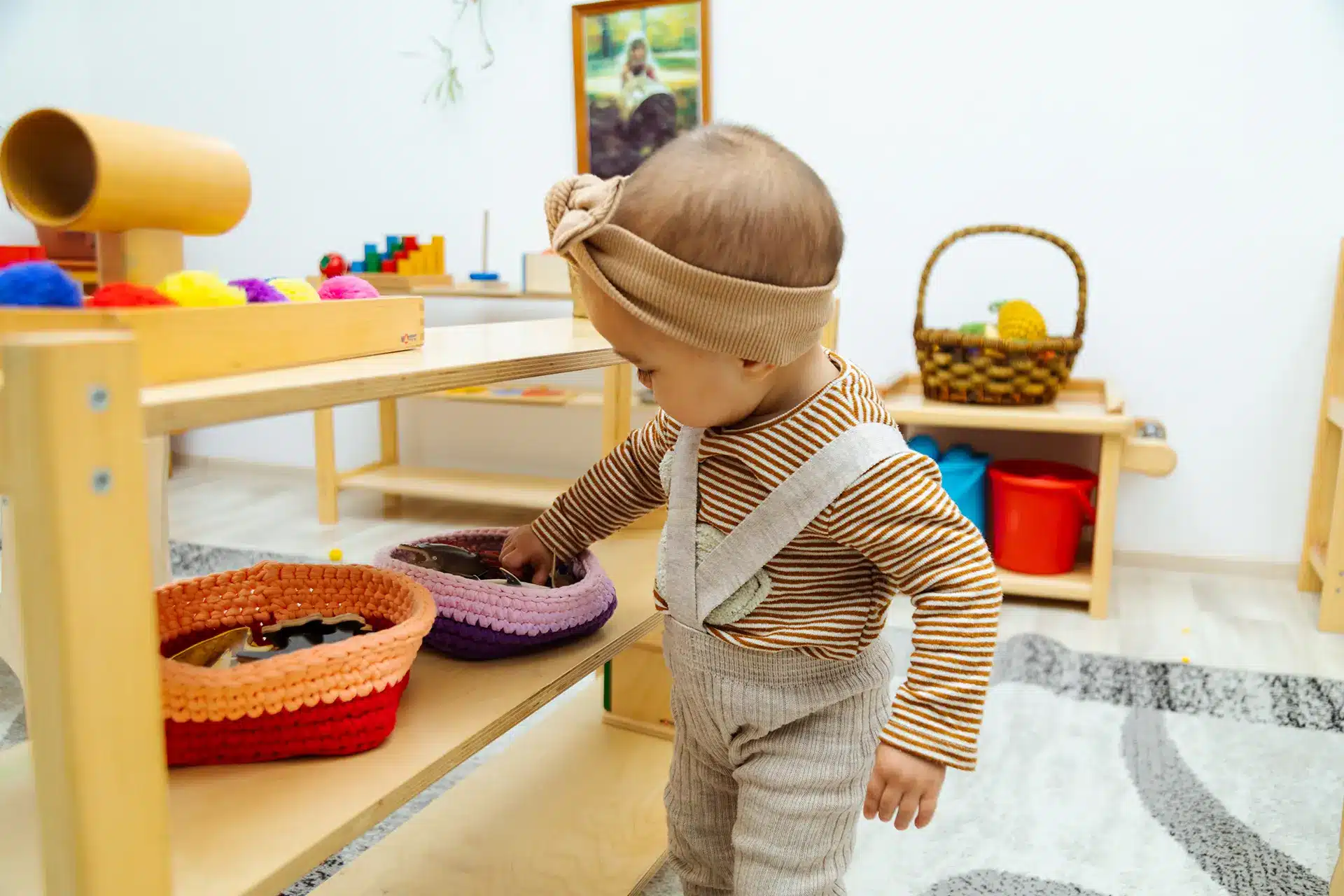 The role of adults in Montessori education
The presence and caring support of adults is also essential in the Montessori method. Their role is to support children's autonomy by providing appropriate materials and guidance (not in front of the TV or on the smartphone!), while leaving them enough freedom to explore and learn at their own pace.
All in all, Montessori wooden educational toys offer a multitude of opportunities to foster children's development, taking into account the different stages of their development and based on sound pedagogical principles. They are therefore an excellent alternative to traditional toys, while helping to strengthen children's skills and independence.