Discover the power of playful learning with the Montessori Cube! This educational tool stimulant offers children a unique and captivating learning experience. Thanks to its design intuitive and its varied activities, it encourages children's cognitive, motor and sensory development. The Montessori Cube enables little ones to explore independently and develop their creativity, while acquiring essential skills such as problem-solving, hand-eye coordination and concentration. Activities also encourage language, math and logic skills. Give your child a fun and rewarding learning experience with the Montessori Cube!
What is a Montessori Cube?
A Montessori Cube is a popular learning game for children developed by the famous Italian pedagogue Maria Montessori. It consists of a wooden cube with specific geometric shapes, colors and images. Montessori cubes can be used to help children learn to solve problems and develop their ability to understand geometry and logic. Specialized Montessori games can also be found where the cubes are designed in more complex ways, enabling children to improve their thinking and problem-solving skills. Montessori cubes are often considered a must-have classic of educational games for children, as they allow children to build their own games and become familiar with the world of geometry.
The benefits of the Montessori Cube for children's learning
Montessori cubes are a wonderful way for children to acquire and develop early skills. They offer a fun, interactive and entertaining way to help youngsters learn through play and develop their cognitive skills. The benefits of Montessori cubes for learning are many and varied, including :
Cognitive development: Montessori cubes offer children a fun and effective way to improve their intellectual skills and learning capacity. Children can learn to find solutions to complex problems, solve puzzles and work in teams.
Fine motor skills: Montessori cubes challenge children's fine motor skills. By manipulating the cubes, little ones learn to use their hands and fingers to build shapes and assemble the pieces.
Creativity: Montessori cubes stimulate children's creativity with their bright colors and varied shapes. They encourage youngsters to explore the world of creativity and imagination.
Problem-solving and decision-making: Montessori cubes are designed to encourage children to solve a variety of complex questions. By using these toys, they can learn to make sound decisions while having fun.
Memorization: Montessori cubes also help children improve their memory skills. By manipulating the objects, they learn to better remember different concepts and formations.
With Montessori cubes, children can enjoy a more enriching learning experience, as they encourage not only learning, but also exploration and creativity.
How to use the Montessori Cube to develop motor skills
Visit Montessori cube is an educational tool used to encourage children to develop their motor skills. It is recognized for its effectiveness and wide range of possibilities and uses. The Montessori Cube is made up of six interlocking wooden cubes. Each cube has a different shape, offering a wide range of possibilities for exploration. It also enhances children's problem-solving skills.
With the Montessori Cube, children learn to become more dexterous and coordinated by manipulating cubes with precise movements. He can build complex objects while having fun and developing his creativity. When he completes a construction, he feels satisfied and encouraged to try new things thanks to the positive feedback he receives.
The Montessori Cube also lets children practice manipulating smaller pieces, while developing their fine motor skills.
The Montessori Cube and the development of hand-eye coordination
Visit Montessori cube is an excellent resource for the development of hand-eye coordination in children. It provides a safe and stimulating framework for children's cognitive and physical development. The cube is made up of six colored blocks which must be placed in a precise order in order to reconstitute the shape.cube. This process requires sustained attention and concentration, enabling children to develop their visual and motor skills.
The Montessori Cube is designed to encourage children to explore and create visual representations. This helps children improve their memory, spatial logic and thinking skills. Children can also develop fine manual skills while working with the cube. This can help them learn to coordinate their hands, improve their manipulative skills, understand complex spatial relationships and find creative solutions.
Using the Montessori Cube is easy and fun. Thanks to the bright colors, simple shapes and clear information on each block, it's easy for young children to interact with the cube's blocks.
Stimulate creativity with the Montessori Cube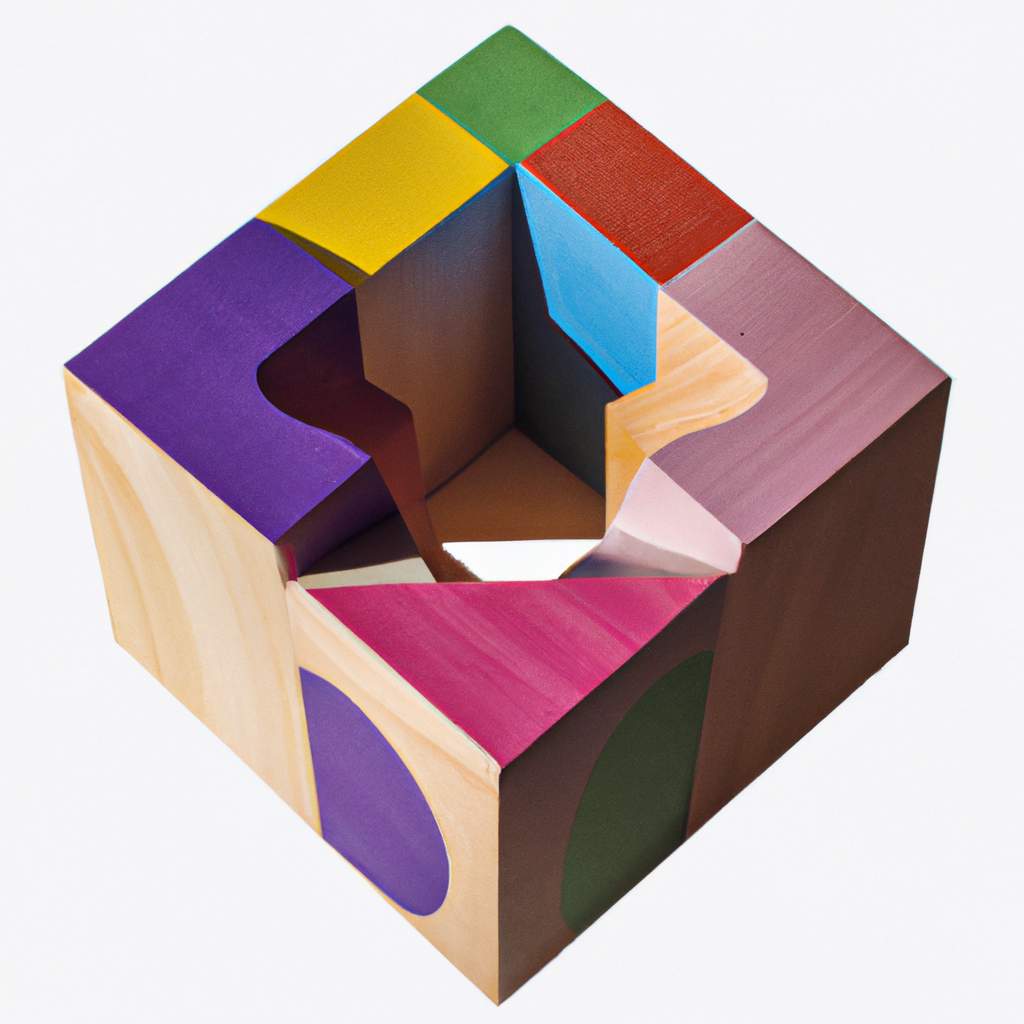 The Montessori Cube is a tool that can help children express themselves and stimulate their creativity. Created by Maria MontessoriIt is designed to provide children with experiences that encourage the use of their imagination and exploration skills. The game helps children to develop an inventive mind and better concentration, which in turn promotes progress at school. The cube has six sides featuring different patterns, symbols and colors. When you want to stimulate a child's creativity, you can offer a variety of play possibilities. For example, ask the child to assemble the cubes and find correspondences between the images, or develop his or her ability to associate words and images. Alternatively, they can use their own creations to tell a story. This can also be a great way to learn new information about the world around them. Cube manipulation is a beneficial activity for all ages, enabling children to cultivate their concentration while putting their imagination to work.
Promoting independence with the Montessori Cube
The Montessori Cube is a tool for encouraging independence in children. It works like a game, helping children to develop motor skills, concentration and perseverance. The cube is made up of six cubic faces in different colors and shapes, which can be turned, swapped and arranged to form a variety of figures.
This tool enables children to develop a wide range of skills. The colors and shapes are designed to stimulate creativity and encourage exploration and problem-solving. It enables children to develop their problem-solving skills through a variety of activities that require them to think creatively.
The Montessori cube offers an excellent opportunity to help children learn and develop their independence through play and fun. It also offers parents and educators the chance to encourage learning through interactive play, while reinforcing their sense of autonomy.
The role of the Montessori Cube in learning mathematics and logic
Visit Montessori cube is an early learning tool that focuses on developing children's mathematical and logical skills. It can be used to help children understand mathematical concepts and the principles of logic in a fun and entertaining way, while building confidence and self-belief. The cube enables children to develop observation and visual perception skills, as well as the ability to solve complex logical problems.
Using the cube helps children to develop a deeper understanding of mathematics and logic, as well as a greater mastery of related concepts and ideas. Cubes can be used to explain fundamental concepts, such as addition, subtraction, multiplication and division, and also help children develop their ability to solve complex logical problems. In addition, the cube can also be used to stimulate children's creativity and imagination.
Visit Montessori cube offers children a variety of playful exercises designed to help them develop their mathematical and logical skills. The cubes are specifically designed to encourage collaborative learning and focus attention on the relationships between objects.
Using the Montessori Cube to encourage sensory exploration
Visit Montessori cube is a multi-faceted exploration tool designed to encourage sensory exploration. It is designed to offer children opportunities to familiarize themselves with the surrounding world through manipulative activities. It is highly effective in improving children's concentration, calm and patience.
The cube features a variety of colorful activities that encourage youngsters to explore their environment and develop their motor skills. The faces of the cube offer children a variety of possibilities, such as listening to sounds, touching different materials, counting pieces and screwing bolts. In addition to stimulating children's curiosity, it also helps develop fine and gross motor skills, concentration and the ability to recognize different shapes and colors.
Montessori cubes are an excellent tool for encouraging sensory exploration in children. They have been specially designed to encourage children's curiosity and give them the opportunity to explore their environment and motor skills through a variety of fun, interactive activities.
The importance of concentration and patience when using the Montessori Cube
Visit Montessori cube is a very practical tool to help children learn and develop their skills. It's important to understand the importance of concentration and patience when using the cube. When using the cube, children need to stay focused and patient so that their efforts are crowned with success.
Children need to take the time to understand and learn the principles of the activities proposed with the cube. Once they've understood, they can then apply these principles repeatedly until they've mastered them. This may take a lot of time, but it's well worth it, as it helps children acquire skills that will serve them for the rest of their lives.
Concentration and patience are essential to achieve significant results with the Montessori cube. Indeed, if children are not focused on the activities proposed by the cube, they may lose their attention and fail to master the content.
Integrating the Montessori Cube into a daily learning routine
The Montessori cube is a magical tool that can be integrated into a daily learning routine. It can provide a multitude of benefits when used appropriately and for educational purposes. The children can acquire many skills and abilities, such as exploring the outside world, cognitive development, building self-confidence and problem-solving.
For integrating the Montessori Cube in a daily learning routine, it's important for parents and teachers to ensure that the cube is adapted to children's needs and interests. Montessori cubes are available in different sizes and colors, and offer a variety of exercises to help stimulate children. Cubes can be used to explore mathematical concepts, play observation games, help children develop interpersonal skills and problem-solving abilities.
The Montessori Cube can also be used as a creative tool. It enables children free their imagination, discover their own artistic style and cultivate a sense of personal accomplishment.