In the world of educational toys Montessori rattles are particularly popular with parents and early childhood professionals. These wooden toys encourage fine motor skills, sensory awareness and hand-eye coordination in babies and toddlers. In this article, discover the main features of Montessori rattles, as well as some ideas for models to suggest to your child.
Why choose a Montessori rattle?
Montessori rattles are designed according to the principles of Montessori pedagogy, a method of education created by Maria Montessori in the early 20th century. This approach is based on observing and respecting each child's needs, in order to provide an environment conducive to his or her development. Here are just a few reasons why a Montessori rattle is an excellent choice of toy for your baby:
Natural and ecological : Montessori rattles are generally made from untreated natural wood, making them safe for babies and environmentally friendly.
Ergonomic : They are specially designed to be easily grasped and handled by babies' tiny hands.
Stimulants : Some Montessori rattles are equipped with beads, rings or maracas to encourage sensory stimulation and the discovery of sounds.
Durable : Thanks to their solid materials and careful design, Montessori rattles stand the test of time and can be passed on from one child to the next.
Discover our special selection of baby rattles, click here.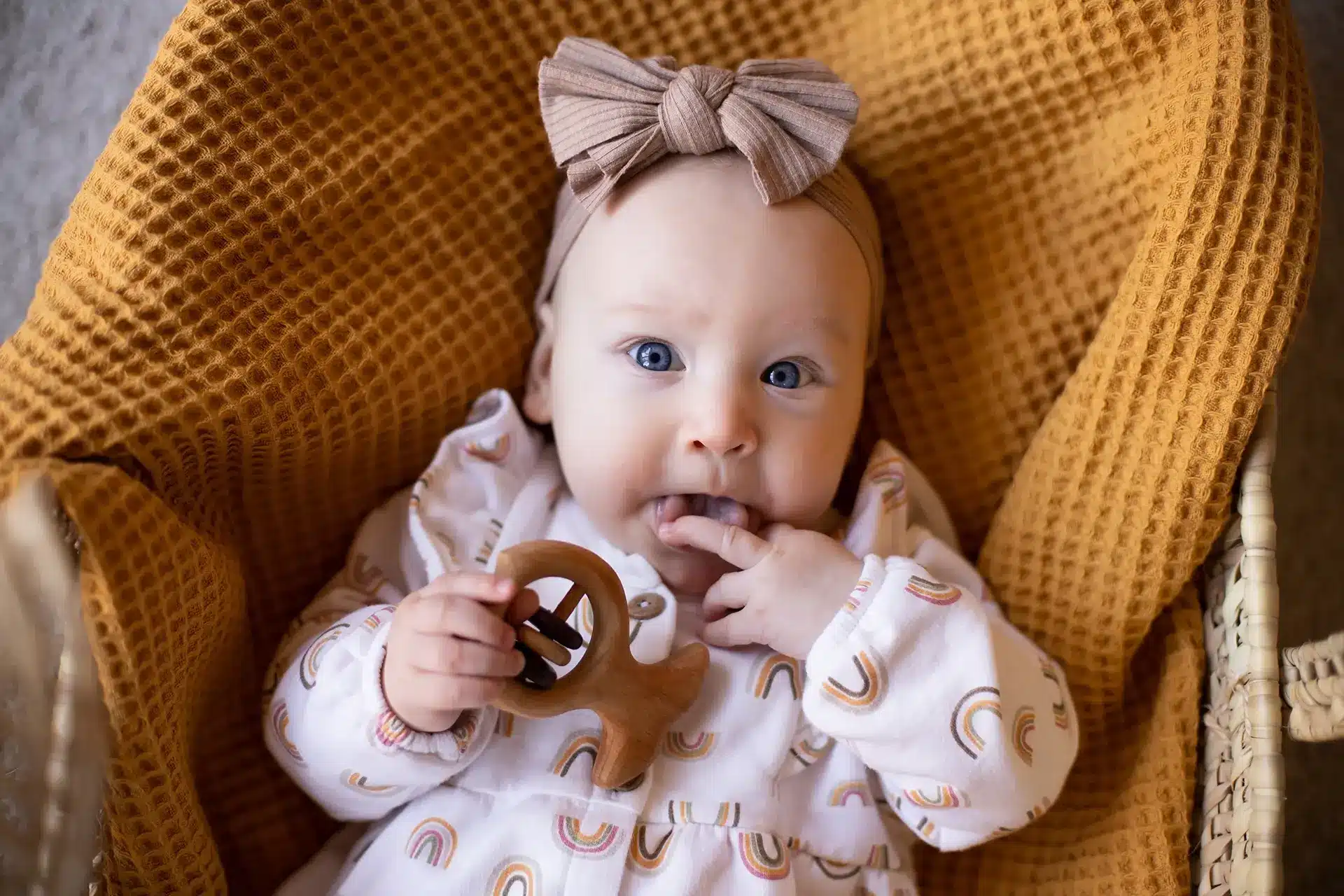 The different types of Montessori rattles
There are several types of Montessori rattles to suit every baby's tastes and needs. Here are a few examples:
Beaded rattle
This type of rattle consists of a wooden structure onto which colored beads are strung. Babies can grasp the toy with both hands, slide the beads along the structure and grasp different textures. The contrasting colors of the beads also stimulate vision.
Ring rattle
The ring rattle features a wooden handle and several rings that can be stacked, threaded or shaken by the child. In addition to developing fine motor skills, this toy helps explore notions of size, shape and order.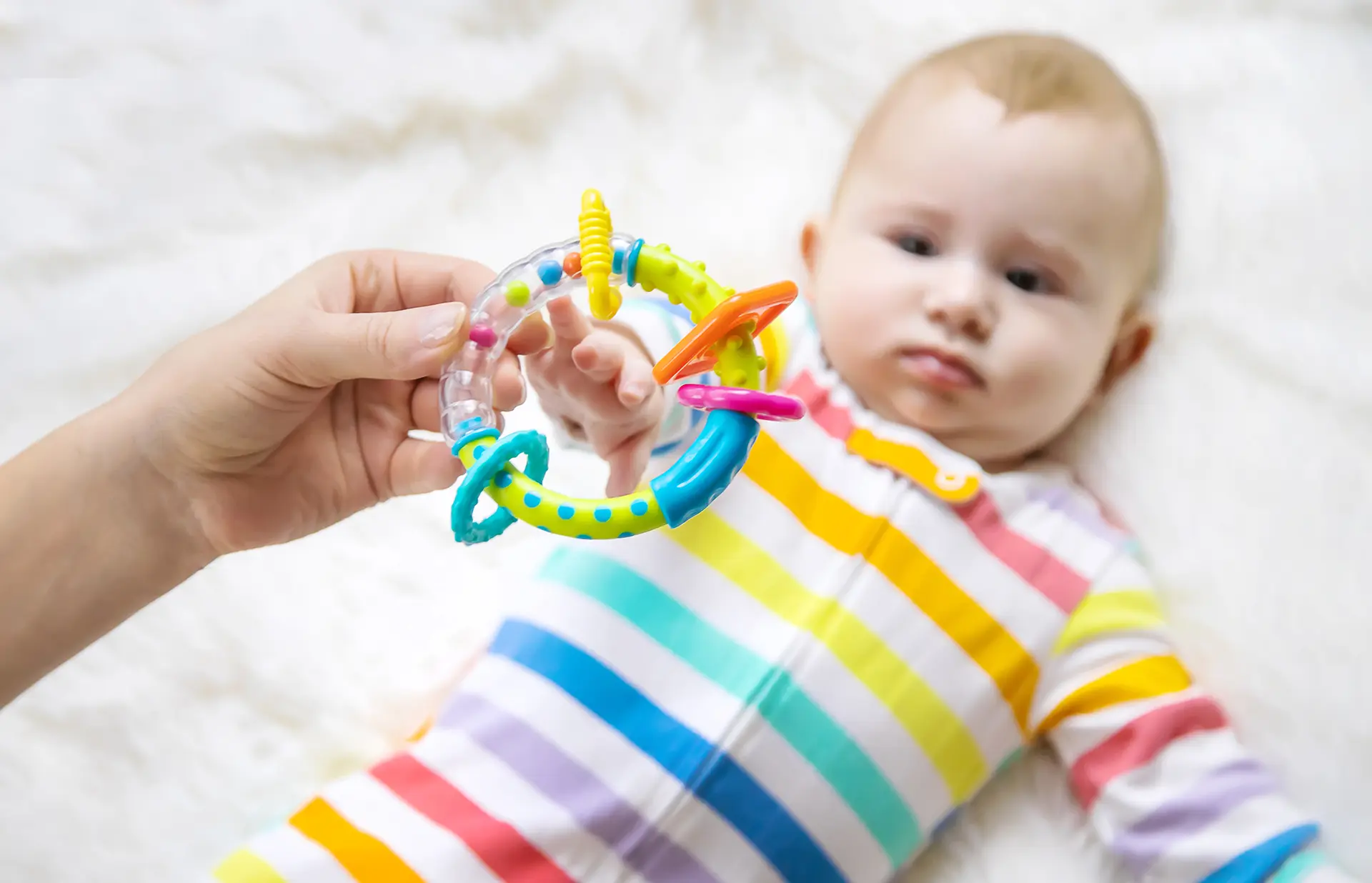 Maracas rattle
This rattle combines the features of a traditional rattle and a musical instrument. With small beads or seeds inside, it produces a soft, pleasant sound when shaken. This toy promotes auditory awareness and encourages hand-eye coordination.
How to choose the right Montessori rattle for your child?
To choose the right Montessori rattle for your baby, consider the following points:
Your child's age : Some rattles are more suitable for infants, while others are more suitable for toddlers.
Your child's interests : Observe your baby's preferences for color, shape and sound, so you can offer a rattle that sparks his interest.
Toy quality: Choose a Montessori rattle made from natural wood, and check that the finishes and paints used are safe for your baby.
Rattle size and weight: Make sure the rattle fits your child's hands and is not too heavy for easy handling.
How and when should you introduce a Montessori rattle into your baby's daily routine?
We recommend introducing the Montessori rattle in the first few months of your baby's life, when he begins to develop fine motor skills and curiosity about the objects around him. Here are a few tips for optimum use of the Montessori rattle:
Offer your baby the rattle during quiet moments: Early-learning times, after naptime or mealtimes, are ideal for discovering and manipulating toys.
Encourage your child to explore the rattle with his hands and mouth: The Montessori rattle is designed to be handled and chewed safely, helping your baby to develop his senses and coordination.
Vary the types of rattles: To stimulate your child's interest, alternate between different models of Montessori rattles (beads, rings, maracas) and gradually add to his toy collection.
In short, Montessori rattles are an excellent choice of educational toy for babies and toddlers. Thanks to their natural wooden design, ergonomic shape for small hands and stimulating sensory and motor skills, they promote the harmonious development of children while respecting the principles of Montessori pedagogy.