From their very first year, babies are constantly evolving and discovering the world around them. Play is therefore essential to stimulate their developmentIt's all about developing motor, cognitive and social skills. In this article, we present various play ideas for your 1-year-old baby, to help him develop and enjoy new experiences.
Imitation games to develop creativity and independence
Babies love to imitate their parents and siblings. That's why imitation games are so popular with children of this age. For example, you can opt for :
Toys representing kitchen toolsYou'll be able to use a variety of tools, such as pots and pans, utensils and dummy food, to help your child pretend to cook like a grown-up.
Dolls or cuddly toys that your baby can play with and care for, bathing, dressing or feeding.
A toy phone, so your child can have fun making phone calls just like Mum and Dad.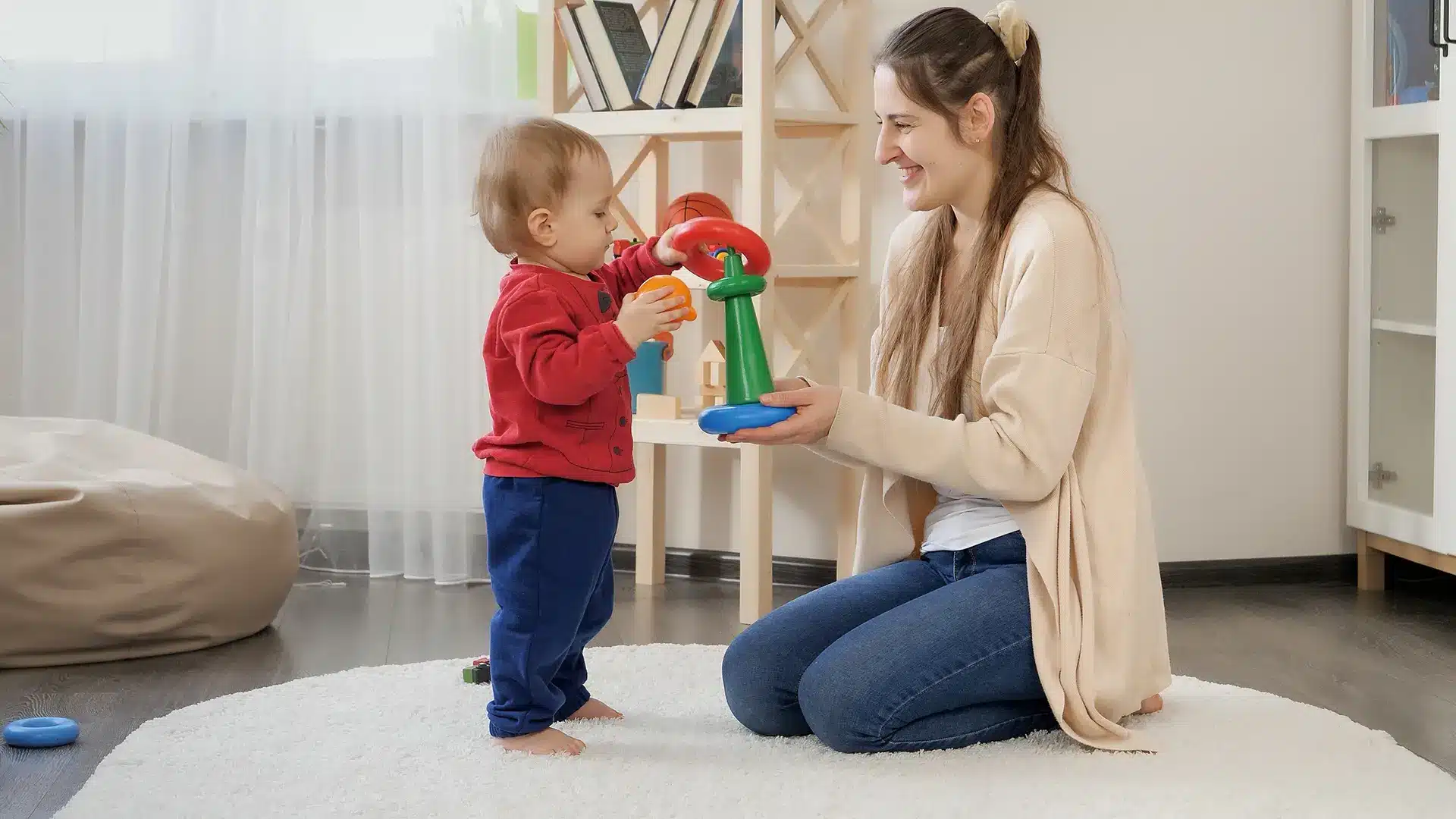 Montessori games for natural learning
Montessori pedagogy is based on the idea that each child has his or her own learning rhythm, and that the environment must be adapted to encourage this natural learning. Montessori games for babies aged 1 are therefore designed to develop your child's various skills, while respecting his or her needs and rhythm.
Here are some examples of Montessori games:
Wooden puzzles with inset pieces to develop fine motor skills and hand-eye coordination. See our selection here
Nesting or stacking cubes, to help your child work on their logic and ability to recognize shapes and sizes.
Sorting activities, such as shape boxes, stimulate color recognition, shape recognition and organizational skills.
Visit our selection of Montessori games for babies aged 1,.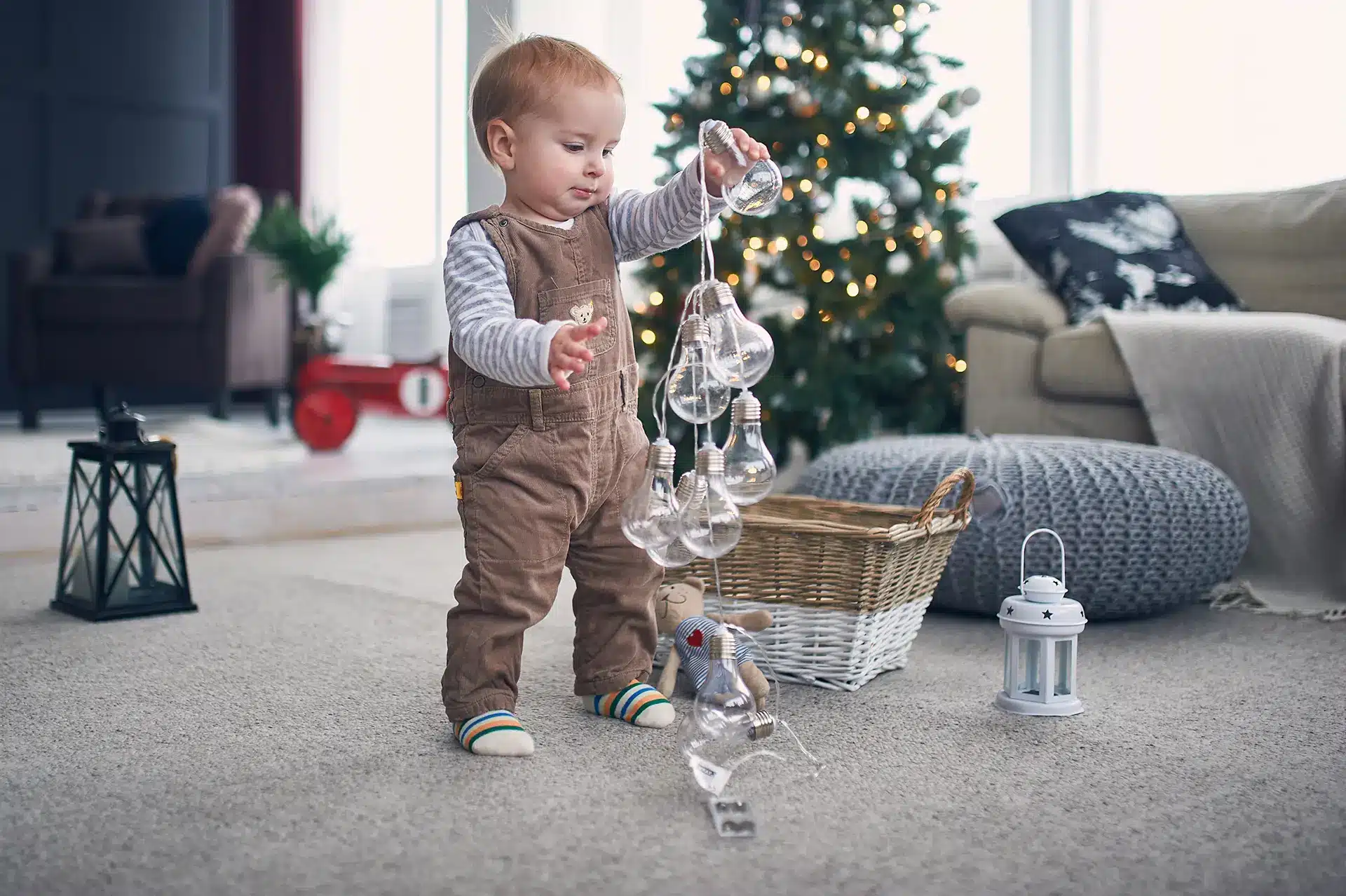 Games to encourage gross motor skills
In their first year, babies learn to control their movements and to move around. Games that encourage gross motor skills are therefore essential to help them develop strength, balance and coordination. Here are a few ideas:
The evolving seat
The evolving seat is an excellent tool to help your baby acquire a sitting position. It can also be used as a high chair, a bouncer or a small armchair as your child grows.
The swing
Installing a swing adapted to your baby's age in your garden or on your balcony is an excellent way to offer him new sensations, while working on his coordination and balance.
Playmat with arches
A playmat with toys hanging from the arches lets your child develop gross motor skills by grasping, pulling and reaching for objects.
Games to stimulate the senses
To help your 1-year-old discover the world around him, it's important to offer him games that stimulate his different senses:
Hearing
Musical toys, such as xylophones, maracas or tambourines, are perfect for introducing your child to sounds and music.
The view
Picture books in bright, contrasting colors, as well as colorful mobiles, captivate your baby's gaze and help develop his vision.
Touch
Textured toys, such as cuddly toys, sensory cubes or play mats in different materials, develop your child's sense of touch and encourage him to explore new sensations.
In a nutshell
Games for 1-year-old babies are many and varied, enabling your child to develop his skills while having fun. Don't hesitate to vary the types of games to offer your baby a range of fun and stimulating experiences.
We have selected for you the best toys for 1-year-old babies here.
Choose toys that are appropriate for your child's age and development.It's also a great way to create precious memories together! Finally, remember that play is above all a moment of sharing and complicity between you and your baby, so make the most of it to create precious memories together!