The Best Montessori Games and Educational Toys for your Children
Discover our exceptional collection of educational games and toys, carefully selected to awaken and inspire young and old. The preferred choice of discerning parents and educators.
Fast shipping in 48 hours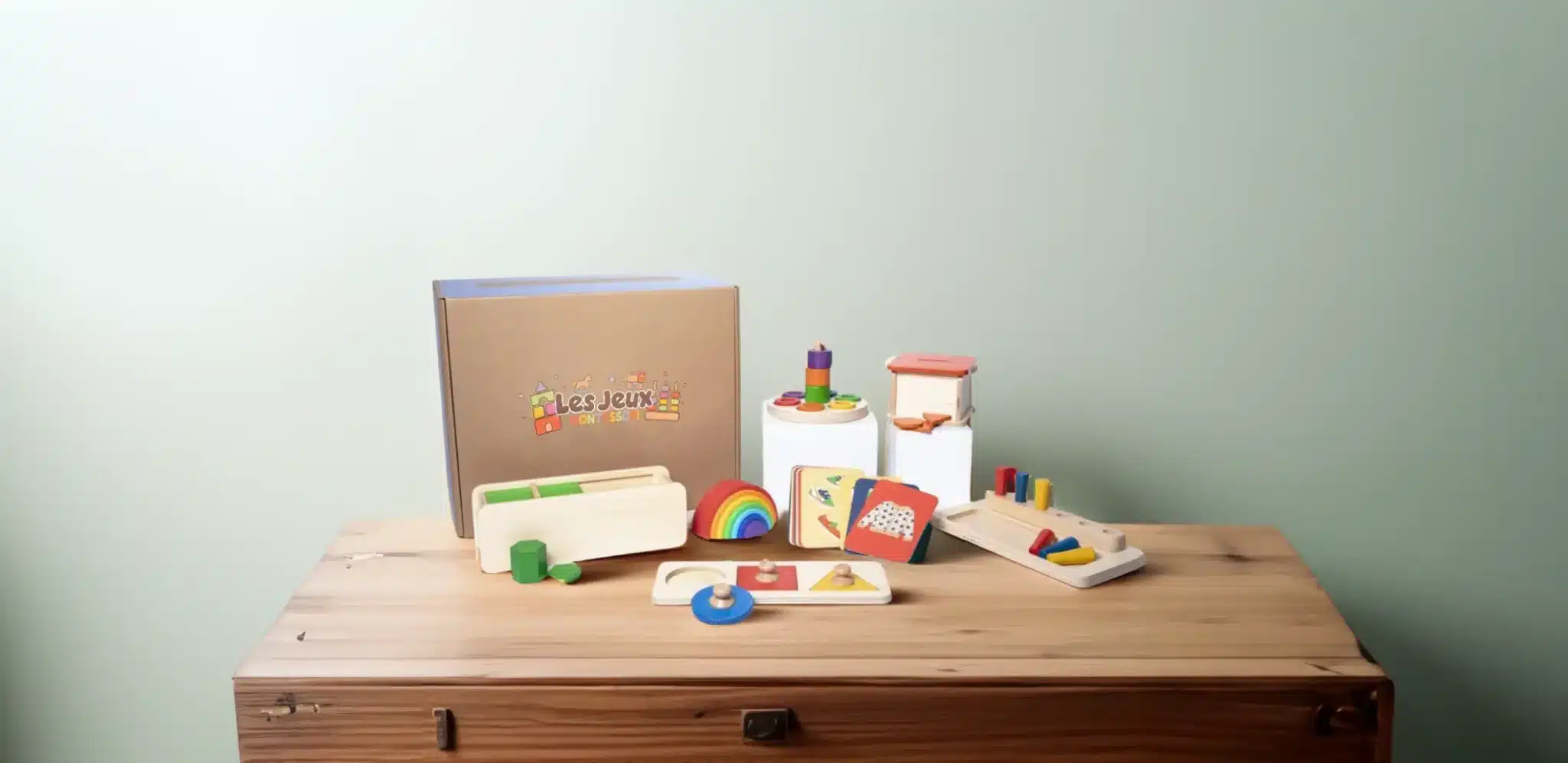 Discover our collections
Best categories of Montessori educational games
For every age, every motivation, every desire, we have the toy your child wants.
Discover our products
Our best Montessori toys and games
Toys and games for every child at every stage of development
Games for development
Our games for fun and learning
With our educational games, your child can have fun while developing skills.
Discover the Montessori method
Montessori games for toddlers
Discover the world around them in complete safety
Colorful and attractive toys for babies
For the babies, Montessori toys promote the awakening of the senses and discovery of their environment.
Rattles, the multi-colored play mats, like the catching toys, are specially designed to stimulate the viewe, touch and hearing toddlers.
Building toys and the puzzles Simple wooden toys also allow them to develop their grip and dexterity.
From the first toys to more complex games
For toddlers, the first educational activities, such as Permanence Boxes or more complex with Busy Board Montessori make it possible to develop the fine motor skills, there coordination and the logic.
These natural wooden toys also offer a unique sensory experience that invites the child to explore and manipulate.
The Montessori method for every day
Montessori games for self-fulfilment
Activities for practical life and discovery of the world
Donning workshops, opening activities or closing activities help children develop their autonomy and self-confidence.
These games also help introduce children to everyday actions and prepare them for life in society.
Montessori Games invite children to observe, touch and experiment. This encourages them to explore their environment and discover the world around them.
Free toys to stimulate creativity and imagination
Creative activities, such as geometric blocks or wooden construction games offer endless play space and allow children to give free rein to their imagination.
These versatile toys are ideal for letting children create their own stories and develop their creativity.
For all children
Toys for all ages
Montessori games are aimed at all children, whatever their age and interests.
A Montessori universe for the child's bedroom
In addition to Montessori games and toys, our online store also offers decorative elements.
Create a Montessori world in the child's bedroom with rugs and puzzles that invite the child to explore, play and learn independently.
Offer them a suitable and stimulating learning and discovery environment.
Educational and fun games for older children
For older children, Montessori games offer a multitude of opportunities to learn while having fun.
Wooden construction games, geometric puzzles and creative activities focused on practical life are ideal for encouraging fine motor skills, coordination and independence.
Educational games, such as abacus and sorting games, promote the development of logical reasoning and mathematical skills.
Suitable for all children
Discover the Montessori method
For a special occasion, a birthday or just for fun
Montessori game gift ideas for all occasions
If you are looking for educational gift ideas for a birthday, a baby shower or as a treat, these toys are a great option.
Thanks to the diversity of activities offered and the quality of the materials used, Montessori games constitute durable, fun gifts suitable for every age.
Personalized support to choose the best Montessori toys
Our team can help you choose the best toys for your child.
Do not hesitate to contact us by email at contact@jeu-montessori.fr
Join us on our social networks (Facebook, Instagram, Pinterest) to interact with us or our community of parents and Montessori education professionals.
By choosing Montessori toys for your child, you offer them the opportunity to grow and learn in an independent and fulfilling way.
So, don't wait any longer and come and discover our wide range of Montessori games and toys for all ages and interests.
Happy children
Parents' opinions
Emma's tips and tricks
Montessori blog
Emma, our specialist education writer, brings you her articles.
Interesting resources for an education in the philosophy that Maria Montessori offered us and that we must now offer our children.
For their well-being and respect for their being.
Montessori toys have long been recognized for their many benefits for child development. Designed by Maria Montessori, a pedagogue ...
In the world of education and pedagogy, the contributions of Maria Montessori cannot be ignored. This Italian scientist developed a method of learning...
Discover the power of fun learning with the Montessori Cube! This engaging educational tool provides children with a unique learning experience...
Montessori Games
Until -20% each month
By subscribing to our newsletter, benefit from lots of new tips and up to 20% reduction each month.
JOIN OUR INSTAGRAM COMMUNITY